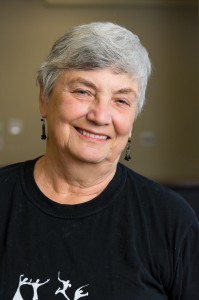 Sing along with some of your favourite Balkan dances.  No experience required; just bring yourself and your singing desire!
Toba Goddard has been involved in folk dance for over 40 years, first dancing and performing Israeli dance with Rikudom (San Francisco) in the late '50s. For the past 30 years, she has concentrated on dancing Balkan and Israeli dance and performed with Kolo Koalition (Balkan), and Camtia (Austrian and Bavarian).
She has taught Balkan and Israeli dances for recreational folk dance groups in the greater Sacramento, California area as well as in several schools as well as leading Balkan singing for tours in Bulgaria.
For 12 years Toba sang with the Eastern European singing group Zado Singers while it was an active performing group in the Sacramento area. They produced two CDs and Toba is proud to have been one of the key producers of the second CD, "A Cappella Alchemy".
For the past four years she has been singing with the West Sacramento Community Singers, and the Sacramento Womens Chrous, choral groups that perform for organizational, senior, and private events.
For the past four and a half years, she has been leading a mostly Balkan singing group called "Sing Along with Toba". This group focuses on songs that are danced to. A lot of joy fills dance classes and dance parties as more and more people sing along with their dancing!
Other cultural pursuits include playing guitar, autoharp and recorder as well as leading American folk song and Balkan folk song sessions in casual settings.