Osem i Devet with Miamon Miller
Michael Lawson – Accordion
David Bilides – Tupan
Teodora Dimitrova – Vocal
Miamon Miller – Violin
Janie Cowan – Bass
The highlight of the Saturday night dance party is a band put together by Michael Lawson called "Osem i Devet with Miamon Miller".
We are delighted to have them play for our fifth Lyrids Festival in Vancouver in 2018.
MICHAEL LAWSON – ACCORDION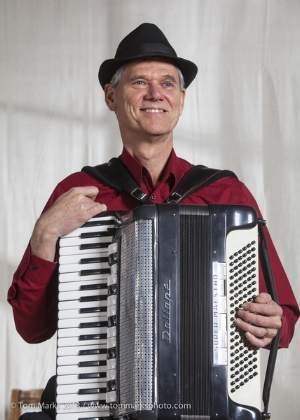 Michael Lawson grew up in a large extended family that featured song and dance at family gatherings. International folk dancing has been a large part of their family life. Michael began classical piano lessons at age 6 and trumpet at age 11. In high school, he played trumpet in a community jazz band. In college, he picked up his mother's accordion and learned to play it for his folk dance club. He fell in love with the rhythms and harmonies of Balkan music, a genre he has played extensively over the last 40 years.
He directed the folk dance bands Nisava, Balkan Cabaret and Kafana Republik as an accordionist and vocalist, recording several CDs. He is always busy playing for folk dance parties, festivals, camps and weddings. Michael performed in the 2013 movie Tazi Baba (This Grandmother), which features Penka Encheva, a native Bulgarian singer. He arranged her songs for accordion and recorded them with her. In the summer of 2016, Michael accompanied the Bulgarian Voices of Seattle Women's Choir on a Bulgarian tour which included a spot on Bulgarian national TV.
Recently, Michael launched a new jazz band, Dreams Come True, playing keyboard and performing repertoire from the swing era.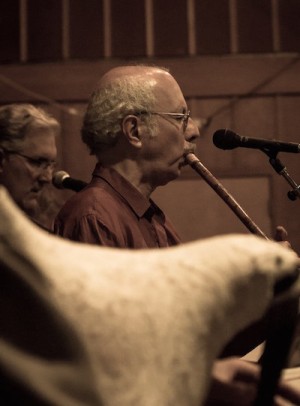 David Bilides' initial encounters with Balkan folk music were the weddings and dances of the Asia Minor Greek community in which he grew up in New Haven, Connecticut. After hearing other Balkan music while attending international folk dancing in high school, he took the first of several trips to the Balkans in 1974, visiting Romania, Greece, Yugoslavia, Bulgaria, and Turkey. He learned dances, made field recordings, and collected instruments. On returning to the United States he taught himself the music and instruments, formed groups, organized festivals and other music events, and performed and taught others music and dance.
David has been lucky to study with many wonderful teachers of traditional music and dance from this area, including, but certainly not limited to: Pece Atanasovski, Mile Kolarov, Dragi Spasovski, Stefče Stojkovski, Angele Dimovski, Goran Alački, Bajsa Arifovska, Željo Destanovski, Ljuben Dosev, Kostadin Varimezov, Stojan Veličkov, Vasil Bebelekov, Alexander Eppler, Nedjalko Nedjalkov, Ivajlo Kučev, Georgi Željazkov, Georgi Dojčev, Nikolaj Doktorov, Gospodin Stanev, Temelko Ivanov, Atanas Kolarovski, Yves Moreau, Martin Koenig, Ethel Raim, Carol Silverman, Lauren Brody, Jane Sugarman, Carol Freeman, Eran Fraenkel, Connie and Marianne Taylor, Joe Kaloyanides Graziosi, Yiannis Roussos, John Pappas, Yvonne Hunt, Dennis Boxell, Steve Kotansky, David Skidmore, Sunny Bloland, Latif Bolat, Bob Beer, Bora Özkök, Mark Levy, Stewart Mennin, Marcus Moskoff, Slavko Šilić, Danilo Yanich, George Chittenden, Lise Liepman, Dan Auvil, Bill Cope, and others.
He continues to play and teach music from the Balkans on a variety of traditional instruments in the US and abroad. David is a frequent guest performer with different groups and at traditional folk music and dance events across the country. Currently he is collaborating with fellow Seattle resident, Macedonian singer Dragi Spasovski. David lives in Seattle with his wife, artist, massage therapist, Reiki master, and musician Sandra Dean. He is the head counselor at a Seattle public middle school.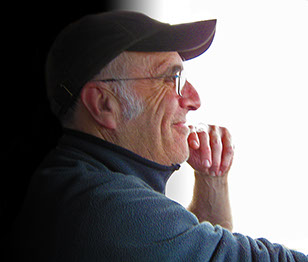 Miamon began his musical career as a classical violinist but became entranced with the world of traditional music, joining the AMAN Folk Ensemble in the 1970s and later becoming its artistic director. Since that time, he has played in many groups, including the seminal Pitu Guli ensemble, the NAMA orchestra, Fuge Imaginea, Trei Arcuși and now his current quartet, the Garlic Band (www.GarlicBand.com).
Miamon studied ethnomusicology at UCLA, earning an MA and ABD whilst playing mariachi music in his spare time. He was awarded a Fulbright scholarship and spent a year living in Romania studying Transylvanian folk music.
Miamon is widely experienced in mainstream music and has recorded with many well-known artists, including Neil Sedaka and Neil Diamond. He has also composed and arranged music for film and television productions ranging from Dr. Quinn Medicine Woman, Arabs in Detroit, And Starring Pancho Villa As Himself, Keeping Up with the Steins, and the PBS documentary Swimming in Auschwitz. He has also composed for theater, most recently the score for the Polish Białystocki Teatr Lalek (Białystok's enormously popular puppet theater) production Czarne Ptacki Białegostoku (The Black Birds of Białystok).
TEODORA DIMITROVA – VOCAL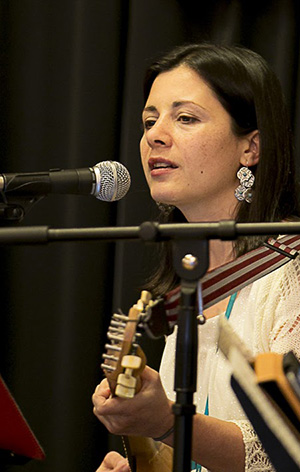 Teodora Dimitrova is from Bulgaria, and she discovered the magic of Bulgarian folklore music when she was little listening to her mother sing at home. Her interest in the music brought her to the "Philip Kutev" School of Music in Kotel, where she studied singing and tambura. Later she specialized in K-12 music education at the University of Shumen. After graduation she became a piano instructor and assistant director of a choir at Elhovo.
Tedy moved to Lynnwood, WA in 2007. In 2009 she met Dina Trageser, founder of Dunava Balkan Women's choir and shortly after became a member of the choir. She also performs with Balkan dance band Orkestar RTW, where she plays tambura and sings lead.
Tedy performed for the Lyrids Folk Dance Festivals from 2015 to 2017 as the lead singer for Orkestar RTW.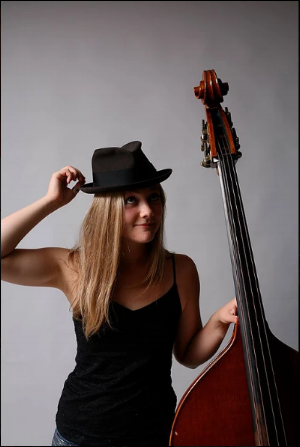 Upright bassist Janie Cowan grew up in Anchorage, AK.  She graduated from The Oberlin Conservatory of music where she studied with such luminaries as Jamey Haddad, Eddie Gomez and Billy Hart, along with receiving classical instruction from Thomas Sperl and studying North Indian classical music with Hasu Patel. Aside from a strong technical foundation, flowing creativity, powerful presence, fat tone and deep feel of rhythm, Janie possesses the rare ability to adapt to any musical situation and bring an ensemble to a new cohesive level, on stage or in the studio.
Having lived and performed in Anchorage, AK, Oberlin, OH, Brooklyn, NY, Austin, TX and throughout California, she is well rooted in the diversity of music the United States has to offer and now spends time sharing and learning international folk traditions.  She has immersed herself in and pursues the studies of music from Ethiopia, Brazil, Cuba, Mexico, the Middle East, the Balkans and Sephardim.
Janie tours and records internationally with an impressive array of musicians from different backgrounds.   Recently she has collaborated with Adam Rudolph, Ralph Carney, Gurf Morlix, Dony Wynn, Casper Rawls, Smokey Hormel, Bob Hoffnar, Tomi Fujiyama, Lucio Menagon, Danny Frankel, Alex Coke, Steve Shelly and Victoria Williams.